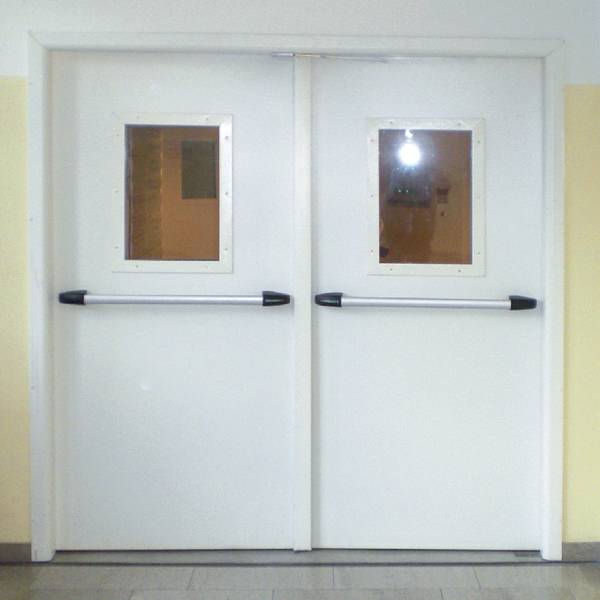 Description – double leaf
Fire-rated metal door ENDOOR/ENPLUS PLASTERBOARD REI 120 as above, with:
Secondary leaf with embodied central counter profile containing the rods for upper closing in the frame and lower closing in the floor. In frame rod strike box with roll to reduce friction, wear and tear. Black floor socket with 3 expansion screws for installation. Inside strengthening plates for fastening of emergency crossbar and overhead door closer.
Closing regulator to assure the correct closing sequence of leaves, of own manufacture, marked "CE – Locher".
Lock in secondary leaf for self-closing with lever to retract the rods and housing suitable for changing to lock used with emergency crossbars.
2 spring-type hinges and 2 bearing hinges.
Minimum wall opening dimension 900 (550+350) x 1795 H, maximum 2545 (1336+1209) x 2500 H, vision panels 300 x 400 H available, Ø 300, Ø 400, side edges minimum 275.
DESCRIPTION OF PARTITION WALL
Fire-rated partition made of light panels with inside stiffening, classified 120 minutes fire-rated, minimum thickness 125 mm, composed of a metal warp of horizontal and vertical "U" shaped profiles of galvanised steel, thickness mm 0.6, section 47 x 75 (or 100) mm, securely fastened with appropriate means to the ceiling and the floor, double-installed in the 3 sides next to the door. The two faces of the metal warp are covered with a double layer of fire-resistant plasterboard panels, thickness 12.5 mm each, fastened with self-tapping phosphatised screws Ø 3.9 mm. the plaster of the flush joints, corners and screw heads is finished with standard products and techniques for the gypsum sector.
REFERENCE OF DIMENSIONS – ORDERS
All dimensions refer to the nominal wall opening. The actual opening to be made in the partition is 20 mm narrower and 12 mm lower.
Orders must indicate the nominal wall opening and the partition thickness (125 or 150 mm). Other thicknesses available on request.